The World Happiness Project was started by Gerry and Chris, who realised that there has been nothing on TV recently about Happiness even though everyone is interested in the subject and there is nothing more important in life than being happy.
Our vision is to make a difference by creating a major new television series and global video stream all about Happiness and developing a series of associated events which promote happiness and wellbeing in our modern society.
The World Happiness Project is a not for profit organisation​. Any surplus will be donated to charity.
Gerry Clarke
gerry@worldhappinesstvproject.org
Gerry loves bringing people together and making things happen
Writer, Producer and Director of award winning films, videos, multimedia and webTV programmes.
Chairman and Chief Executive of International Corporate Communications company
Organization of business conferences for sales, marketing and product launches
Management of trade shows, exhibitions, press and public relations events.
Freelance Photojournalist for Time Magazine, Riviera Times and various news, leisure and lifestyle publications.
Artist, Sculptor and Creative Director of Interactive Art and Entertainment Projects
Designer of Sculpture Parks, Town Memorials and Gardens of Memory
Director, International Arts and Music Festivals, Bournemouth Jazz Festival, Jazz by the Sea Festival and The World Jazz Jamboree.
For further details see: www.gerryclarke.co.uk
Chris Croft
chris@worldhappinesstvproject.org
Chris Croft is a management trainer and author, his first book 'Time Management' was published in 1996 and has since been followed by fourteen others. His tip of the month email goes out regularly to over 18,000 people. Recently he has also been making videos – there are more than 80 on his youtube channel which has 9000 subscribers and over a million views, and he has 28 courses featured on www.lynda.com / Linkedin Learning, including his Daily Happiness Tips which was in the top ten worldwide viewed courses on Linkedin Learning in 2018.
It was his interest in Time Management which led him to Happiness – what is better use of your time than the things that make you happy? Trying to understand happiness, and then to promote it in others, has become an increasing passion.
For further details see: www.chriscroft.com
Leslie Lyle
Lesley Lyle was one of the first cohort of the MSc Applied Positive Psychology (MAPP), Bucks New University. She is now an associate lecturer on the MAPP course at Bucks and a Director of Positive Psychology Learning, the only UK company that offers positive psychology courses run is association with a university.
Her dissertation was research into positive aging, a subject that she is hoping to learn more about from the inside out! She is a qualified Clinical Hypnotherapist and runs a wellbeing practice in the New Forest where she lives and also shares a practice in Harley Street, London.
A keen advocate of facilitating positive emotions for herself and others, she is a laughter teacher and trainer and runs a free laughter club in her community. In 2012 her book 'Laugh Your Way to Happiness' was published (Watkins). After a long career in the aviation world she still works part time for British Airways, as cabin crew, trainer and wellbeing & inclusion advisor.
Website: PositivePsychologyLearning.com Lesleylyle.com
Julia Seibold and Dulcie Batt
Dulcie, left – we met her when she ran a recent Exploring What Matters course with Julia. Mother of four, she recently sailed across the Atlantic. She runs Qoya classes
blog here: https://joyfulmothering.co.uk/blog/
Qoya here: https://www.qoya.love/dulcie-batt
Julia, right, is an experienced and qualified coach – her approach is based on the unique person-centred NLP and Integrative Hypnotherapy by Salus Academy which Peggy Guglielmino established. You receive bespoke experiences, tailored to your individual needs and goals, as you commit to a profound journey.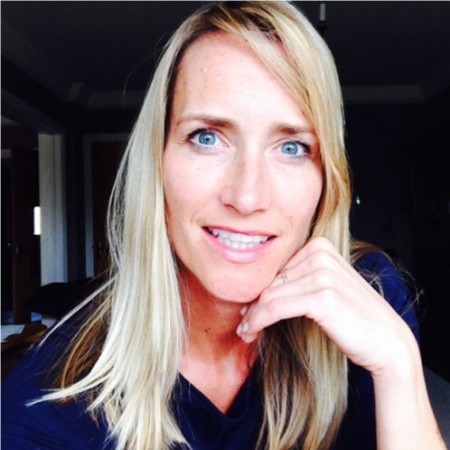 Website: https://www.mindyou.today/
Layne Hamerston
Visiting Associate – Integrative Wellbeing Research Centre at Bournemouth University
Founder of the Living Well Agency.
The Living Well Agency provides consultancy, training, speakers and events to improve the health, fitness and wellbeing potential for people living with cancer.
Based at Bournemouth University, they have recently been commissioned by Macmillan Cancer Support and Sport England to work with local partners to enable 1000 people living with cancer to engage in health promoting physical activity and supporting services.